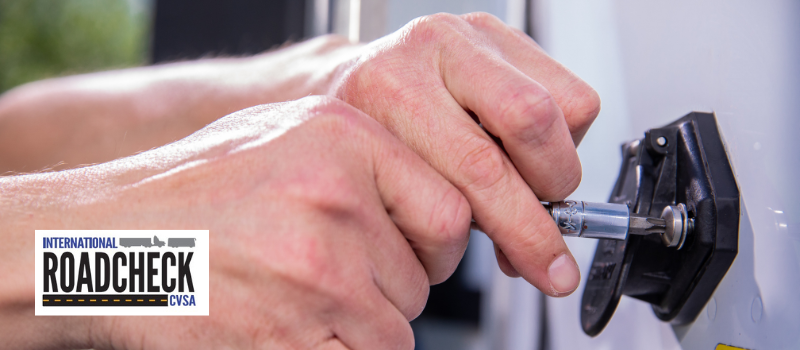 Are YOU Ready for Inspection?
The International Roadcheck is a high-visibility, high-volume 72-hour inspection and enforcement event that takes place this week, May 16-18. CVSA-certified inspectors in Canada, Mexico, and the U.S. will conduct inspections of commercial motor vehicles and drivers at weigh/inspection stations, designated inspection areas, and along roadways.
Typical routine North American Standard inspections focus on driver and vehicle safety. During International Roadcheck, there will be an added emphasis on ABS and cargo securement within vehicle safety.
Under vehicle safety, inspectors will ensure heavy-duty vehicle brake systems, cargo securement, coupling devices, driveline/driveshaft components, driver's seat, fuel and exhaust systems, frames, lighting devices, steering mechanisms, suspensions, tires, wheels, rims, hubs, and windshield wipers are compliant with regulations.
Under driver safety, inspectors will check the driver's operating credentials, hours-of-service documentation, status in the drug and alcohol clearinghouse, seat belt usage, and for alcohol and/or drug impairment.
Compliance with safety requirements and regulations is essential for carriers to operate their fleets safely and efficiently. Failure to comply can result in penalties, fines, and even suspension of operating authority. Phillips Industries and Phillips Connect product solutions increase productivity and safety performance while on the road supporting the agenda of the International Roadcheck.
A Successful Inspection – Where Opportunity Meets Preparation
Success in anything requires preparation to meet opportunities, whether they are planned or spontaneous. During the International Roadcheck and all year long, you can ensure your vehicle is prepared for a successful inspection. Spec'ing the right products, ensuring proper installation, and providing routine maintenance will ensure a vehicle is operating at peak performance. And telematics data management and analytics are proven critical tools for today's carriers to identify potential safety issues and take corrective action before they become serious problems. Phillips Industries and Phillips Connect have you covered for both.
Phillips Industries Solutions for a Successful Inspection
Many factors can lead to a violation. Phillips Industries aims to eliminate them by providing solution-driven premium products that solve common challenges plaguing the industry combined with maintenance and installation education. All of which will have any driver prepared for an International Roadcheck inspection.
Superior performance products such as the QCP™ (Quick-Change Plug) electrical assemblies offer a corrosion-resistant plug and quick and easy serviceability with a plug-in cartridge insert that is replaceable in under 2 minutes. Sealed harnesses with bulleted termination sockets for plug-in replacement, such as the QCS2® for both the 7-way and charging systems, help eliminate corrosion and the effects of pin degradation. A driver will be cited for lights that don't work. Corrosion and pin degradation can lead to a weak connection and flickering or inoperable lights.
Proper product selection and installation matter. Installing equipment incorrectly can reduce a product's performance, create unintended damage, and lead to violations. A prime example of this is cable support. The wrong cable support, or even the right cable support installed improperly, can lead to cables that don't utilize full working length, hinder recoil memory, or create cable damage from rubbing on the deck plate. Educational training for proper product selection and installation is integral. Fleet maintenance teams can seek training from Phillips for spec'ing the right products and best maintenance and installation practices to increase their operation's safety and productivity.
Maintenance and repair management is critical for carriers to keep their vehicles in top condition and reduce the risk of violations. Nothing lasts forever. Daily inspections should be performed by the driver before leaving the yard and all vehicles should be on a routine preventive maintenance schedule. In addition to routine walk-around pre-check and maintenance plans, technology is a game changer in support of maintaining a vehicle's health and maintenance for safety and inspection.
Phillips Connect Telematics Solutions for a Successful Inspection
Phillips Connect's advanced online platform, Connect1, enables carriers to monitor vehicle health anywhere and everywhere. Through this cutting-edge and customizable dashboard, Connect1 allows fleet managers to schedule maintenance for an entire fleet, increasing overall uptime. With this tool, carriers can set up customized maintenance schedules based on time, engine hours, or mileage, ensuring that trailers receive the necessary maintenance at the right time to keep them in top condition and reduce the risk of violations.
To help carriers comply with safety regulations during the International Roadcheck, Phillips Connect also offers a remote Pre-Check feature. This allows fleet owners to perform electronic inspections of trailers in real time, identifying any issues that need to be addressed before they hit the road. By catching potential issues early and addressing them quickly, fleet owners can avoid costly violations and keep their vehicles and drivers safe and compliant on every trip.
The International Roadcheck places a particular emphasis on cargo securement. Phillips Connect's asset tracking solutions can help carriers monitor their cargo and ensure that it is properly secured, reducing the risk of violations. With Phillips Connect's cargo monitoring technology, carriers can receive real-time alerts if cargo is not properly secured or if there is an attempted theft. This feature not only helps to prevent violations but also enhances cargo security, giving carriers and their customers greater peace of mind knowing that their cargo is being monitored and protected throughout the journey.
In conclusion, the #PhillipsFamily suite of solutions can help carriers prepare for and successfully navigate the 2023 International Roadcheck, reducing the risk of violations and ensuring compliance with safety regulations.