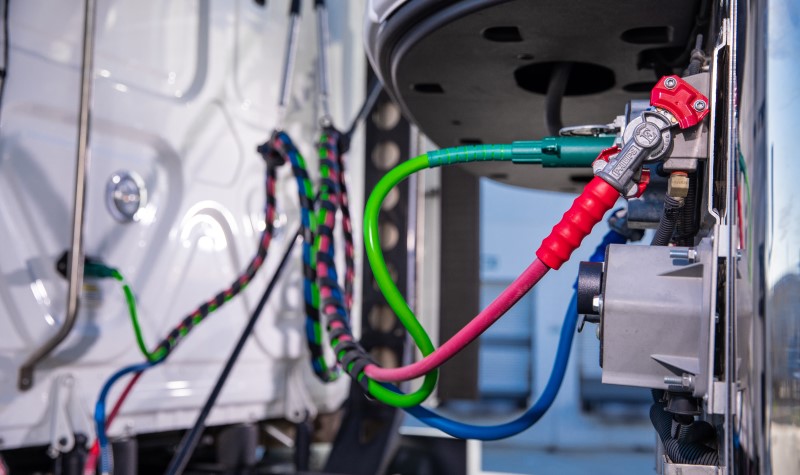 Air and Electrical – Cost of Doing Business or Return on Investment?
During a time when the cost of business has been on a steady incline everywhere, it is imperative to make conscientious and sound financial decisions. From a fleet or owner-operator perspective, time spent on roadside repairs and maintenance, whether planned or unplanned, is a cost of doing business that almost always results in a monetary loss rather than a gain. In addition, overhead, such as product replacement, labor, and time away from the road, are all negative costs associated with downtime. So, what's the solution?
There will always be downtime associated with routine scheduled maintenance; it's unavoidable. But when done correctly, it can be a return on the investment of the vehicle. It's just a matter of finding the right balance and fine-tuning it based on the individual operation. But when the scales are constantly tipped to the side of unscheduled repeat maintenance, it's time to take a step back and assess the bigger picture.
A vehicle's performance is only as good as the products that are specced, installed correctly, and maintained properly. If any one of these is off, it could spell trouble for a fleet's bottom line.
Back of Cab
While every part on a vehicle serves a purpose, cargo moves nowhere without the back of cab air and electrical lines. A typical tractor-trailer has a minimum of three cords for connecting the tractor's power and pneumatics to the trailer when the vehicle is in operation. Strong connections, appropriate cable support, and proper cable length selection are critical factors to optimal performance. Installation, support, and maintenance also play pivotal roles in their function.
With a problem-solving approach, Phillips has been a big proponent in trying to find product solutions that work for a fleet and educate them on installation and maintenance. In addition, setting up Standard Operating Procedures (SOP's) that work for a fleet's individual needs and helping them reevaluate their practices to obtain the best ROI for optimal performance has been a priority, especially when it comes to air and electrical products.
While what a fleet specs is always their prerogative, things such as quality cables and plugs should be considered and proper support for those cables. Phillips is making considerable strides in its efforts to meet with fleets that have an interest in increasing their ROI. When this is not immediately possible, the following are items to consider:
Air & Electrical Lines
Air and electrical lines come in both coiled and straight versions, but they serve the same function regardless of type. While the selection of coiled or straight cables is typically based on personal preference, Phillips has learned that straight cables are more durable and resilient than their coiled counterparts. 
Using coiled air and electrical cables will get the job done. But there are some pieces to consider. Rubber handles endure cold temperatures whereas coiled cables are susceptible to damage unless a coated air line is used. In addition, while lighter in weight and typically less expensive in price, coiled cables are more prone to getting tangled among each other, thus increasing the chances of kinks. Kinks are irreversible and restrict airflow, which means the cable will require replacement and, in turn, increases downtime.
More recently, there has been a shift in the market to 3-IN-1 combination assemblies. Combo assemblies consist of two straight air hoses and a straight electrical cable combined in a protective spiral wrap. Although heavier in weight, this protective outer layer makes things neater, cleaner and eliminates tangled messes. One might argue that coiled cables are easier to replace, being that they are independent of one another rather than encased in a protective spiral wrap. Coiled cables may or may not be easier to replace depending on whether they are installed with a swivel fitting. But it is worth noting they are more susceptible to damage for the same reason of not being protected inside a spiral wrap. 
Electrical Plugs
Plugs typically have the exact fit and function due to SAE J560 standards but may vary in composition — plastic vs. metal.  Unfortunately, if a cable from a 3-IN-1 assembly must be repaired or replaced, the spiral wrap must be removed, and often the cables are not re-wrapped. Phillips Industries addresses this by offering its QCP™ (Quick-Change Plug). This is a replaceable plug cartridge — think disposable razor head. If the electrical plug pins can be replaced easily and quickly, it avoids the headache of repairing with a new plug or replacing the entire electrical assembly. Often, good standing cables or 3-IN-1 assemblies go to waste when the core issue is due to worn out pins. Using the QCP™ is a way to always have fresh pins, with minimal cost for a cartridge. It also saves time, reducing a repair or replacement from 15-30 minutes down to about 2 minutes.
Air Connectors
Gladhands are standardized air connections that offer a quick and reliable means to couple the service and emergency air lines between trucks and trailers. They are called gladhands because when the connection is made, they have the appearance of a pair of hands in a handshake.
While aluminum-bodied gladhands are cost-effective and will perform well, using anodized gladhands in your set-up increases protection against magnesium chloride, road salts, and chemicals, which are the source of corrosion. Corrosion can eat away at the gladhands, compromising the coupled connection. Anodizing helps keep corrosion buildup inside of the gladhand so corrosion debris doesn't fall back through the trailer air system, into the valves. Anodizing is the process in which a protective coating of aluminum oxide is added to aluminum surfaces that holds up well against UV rays, wet weather, and de-icing chemicals. 
Cable Support
One must understand that unsupported cables can become chaffed and cracked from rubbing or dragging on the deck plate. The cable support selected must be able to carry the weight of the chosen application.
Coiled cable springs, designed to support coiled assemblies, will eventually fail and will lose retraction if installed on 3-IN-1s or straight assemblies, due to weight.  Be sure to use extra-heavy duty 3-IN-1 springs for heavier applications.  
It is essential to ensure that straight assemblies are adequately hung and that typically is done with a looped shape that expands and contracts with the truck's movement. Phillips determined that combination assemblies perform best with two tender springs – one being the working spring and the other being the supporting spring. To get the full working length of coiled cables, only one spring is needed with the hose holder placed at the base of the first tractor-side coil.
The Phillips Solution
Through testing and evaluation, Phillips has created a product solution that meets the challenges fleets are encountering by combining ready-to-install factory assembled tractor to trailer connection components and cable support, designed to save time and money, under one part number.
The QWIK-CHANGE™ PAK includes a Phillips premium spiral-wrapped 3-IN-1 electrical and air combination assembly with QCP™ (Quick-Change Plugs), service, and emergency factory-installed anodized gladhands, and two 25" QWIK-CHANGE™ heavy-duty tracker spring kits with QWIK-CLAMP™.  These quality components in an all-in-one kit reduce the overall costs, simplifies installation and maintenance, and ensure the correct combination of durable products for the reliable tractor to trailer connections. To learn how the QWIK-CHANGE™ PAK can increase your operation's ROI or how to install your PAK correctly, contact your local fleet sales rep to schedule a demonstration.