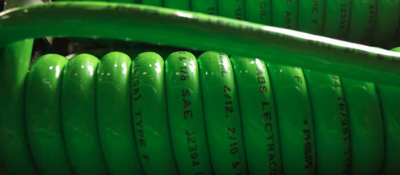 Driver safety is a critical factor on the road. But operating a commercial vehicle can pose an even greater safety risk – to both the driver and  neighboring cars. Commercial truck drivers are held to a higher standard for training, performance, and compliance than other vehicle operators. The unique nature of the vehicles they operate, the weight they carry, and the number of potential dangers they face from normal road and highway conditions require operators to be at their best and vehicle equipment to be in peak operating condition.
When considering road and highway safety, there are multiple entities that set regulations, recommendations, and guidelines for operators, technicians, and manufacturers to follow to ensure safer operation. One such widely-known entity, the Society of Automotive Engineers (SAE), representing engineers in all types of mobility-related professions, has developed standards for aerospace, automotive, and commercial/heavy duty vehicle industries. Within the commercial vehicle industry, these standards range from requirements on how many lights need to be visible on a commercial tractor/trailer to construction recommendations for electrical cables used to operate the ABS on a trailer.
SAE Standard J2394 for ABS Electrical Cables
SAE J2394 establishes specifications that outline the construction and performance requirements of ABS cables; a guideline endorsed across the industry for quality and performance. Cables manufactured to this standard will support all electrical requirements of today's commercial trailers, such as lighting and the ABS system. Cables that meet this specification are green in color with the SAE marking on the jacketing.
So, what happens if you use a cable that does NOT meet SAE J2394 specifications? Non-compliant cables can lead to the following:
Dim or inoperable trailer lights due to low voltage (not enough copper to conduct the appropriate voltage)
Excessive heat in wiring, which amplifies corrosion and could lead to thermal events
Triggered ABS faults, putting the vehicle out of commission while the issue is resolved
SAE designs its standards as recommendations based on the experience and research of vehicle manufacturers, component manufacturers, and industry experts to put commercial vehicles in the best possible position to maintain a safe operating condition. Following the recommendations of SAE seems like the SAFE thing to do.
When you spec your ABS electrical cables, look for the mark. Don't accept anything less. Why take chances with your trailer? If it doesn't say it meets SAE J2394 specifications, it likely doesn't. ABS electrical cables are the primary conduit for power delivery to the trailer, and any compromise there could have effects elsewhere. Safety risks, CSA violations, and downtime associated with a non-compliant cable do not make it a worthwhile investment.
Committed to Safety
The #PhillipsFamily is intent on making the roads safer for everyone. As a company, Phillips has been (and continues to be) an active participant in SAE committees and remains fully committed to finding ways to make the roads safer. From making SAE J2394 compliant ABS cables to designing the next generation of trailer telematics through Phillips Connect, everything we do centers around the primary mission of making people safer. Because, at the end of the day, we all want the people we care about to get home safely.