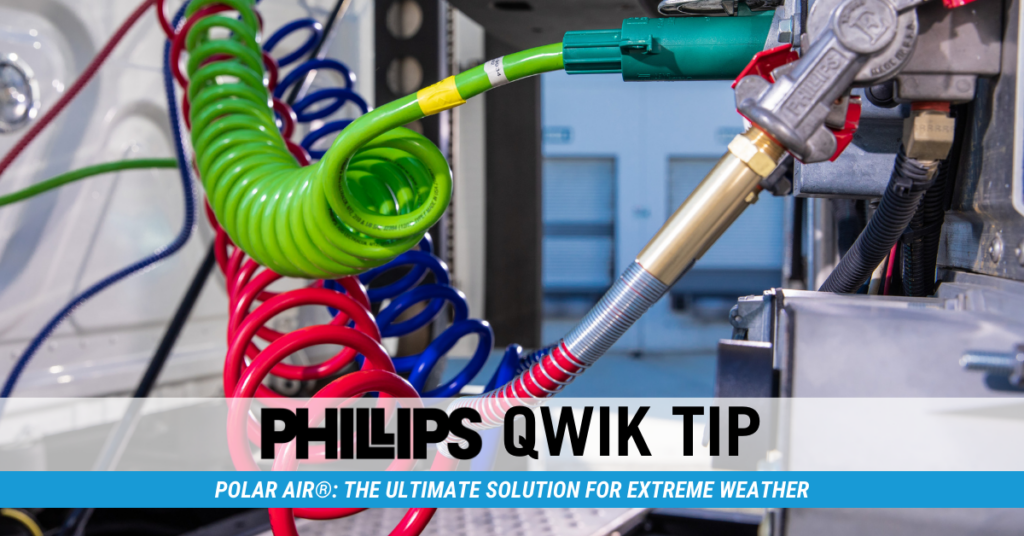 Winter can be a relentless adversary for the trucking industry with plummeting temperatures and extreme weather conditions wreaking havoc on equipment. But for those armed with the Phillips Industries Polar Air®: The Ultimate Solution for Extreme Weather, even the harshest conditions don't stand a chance. 
Unmatched Performance in the Coldest Climates
Designed specifically for extreme weather conditions, Polar Air® is not your average coiled air system. Where most systems become rigid and prone to malfunction, the Polar Air® remains flexible even at an astonishing -85°F (-65°C). Such flexibility is critical in preventing breakages and ensuring the longevity of the system. Additionally, it boasts excellent recoil memory, impressive chemical and abrasion resistance, and a jacketing that not only prevents fractures but also offers a durable rubber feel.
The POWER GRIP™ gladhand extension is another feature that sets the Polar Air® apart. This extension ensures superior coupling and uncoupling leverage, making connections more secure and reducing the risk of air loss or disconnection. The large coil diameter further enhances its performance by preventing kinks and guaranteeing a more effective recoil. Fittings are also top-notch, with a single-piece trailer side and a three-piece swivel tractor side.
Industry Standards and Best Practices
Phillips Industries Polar Air®: The Ultimate Solution for Extreme Weather isn't just about high performance in the cold; it's also about ensuring safety and meeting industry standards. This coiled air system complies with SAE J844 and J1131 specifications and meets both DOT 49 CFR FMVSS 571.106 and 393.45 specifications. Such compliance guarantees users that they're investing in a product that aligns with the industry's best and safest practices.
Phillips Industries also recommends the use of a tracker bar spring kit or a pogo stick to support cable assemblies with longer leads. This recommendation is in line with best practices, ensuring that your setup not only functions optimally but also lasts longer.
In an industry where downtime can be costly, ensuring your equipment can withstand the elements is paramount. With the Phillips Industries Polar Air®, truckers and fleet managers can have peace of mind, knowing that they are equipped with the best coiled air system designed for the harshest weather conditions. When the cold sets in, let Polar Air® be your beacon of reliability on the open road.