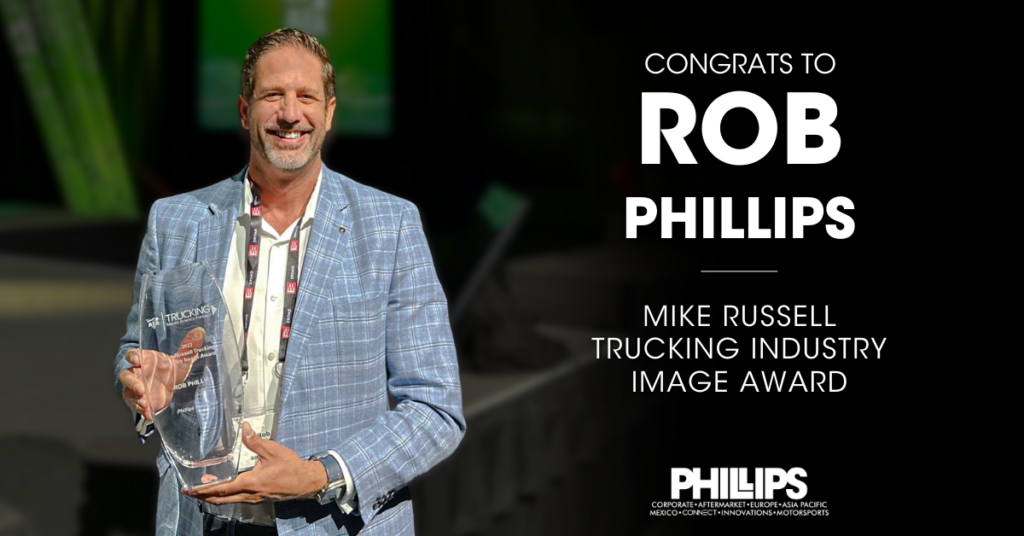 The American Trucking Associations (ATA) proudly announces Rob Phillips, CEO of Phillips Industries, Phillips Connect, and Phillips Innovations, as the recipient of the esteemed Mike Russell Trucking Industry Image Award in the Distinguished Supplier and Allied Member category. The ATA presented the award to Phillips on Monday, October 16 at MCE. The award stands as a testament to the pioneering spirit, leadership, and significant contributions that Phillips has made to the trucking industry.
Under Rob's leadership, the Phillips Family of companies have consistently pushed the boundaries of innovation, introducing groundbreaking solutions and products that drive the trucking sector forward. The Mike Russell Award, named in honor of the late Mike Russell, a passionate supporter of the trucking industry, is awarded annually to individuals or companies that bring transformative change to the sector.
Rob, expressing his gratitude, said, "I am deeply honored to accept the Mike Russell Trucking Industry Image Award on behalf of Phillips Industries and Phillips Connect. Thank you to the American Trucking Associations for this recognition. We are committed to breaking down many of the barriers that have made safe driving a challenge, and eliminating many of the common frustrations that drivers have with safety, load security, downtime, and waiting around for their trailer to get loaded. This award is a celebration of our collective commitment to improving the image, safety and technology innovation of the trucking industry."
This accolade further establishes Phillips' reputation as an industry leader and innovator. The commitment, passion, and relentless pursuit of innovation by Rob have not only driven the success of his companies but also significantly impacted the broader trucking ecosystem.
The ATA and The Phillips family of companies have a long-standing partnership, underscoring their commitment to innovation and excellence in the trucking sector. As the leading voice of the trucking industry, the ATA's alliance with Phillips, signifies a shared vision to enhance safety, efficiency, and reliability in transportation. Through collaborative efforts, the partnership aims to introduce cutting-edge technologies and best practices that benefit both drivers and the broader logistics community. Their mutual dedication to fostering progress within the trucking industry is a testament to the future-forward direction the industry is taking.