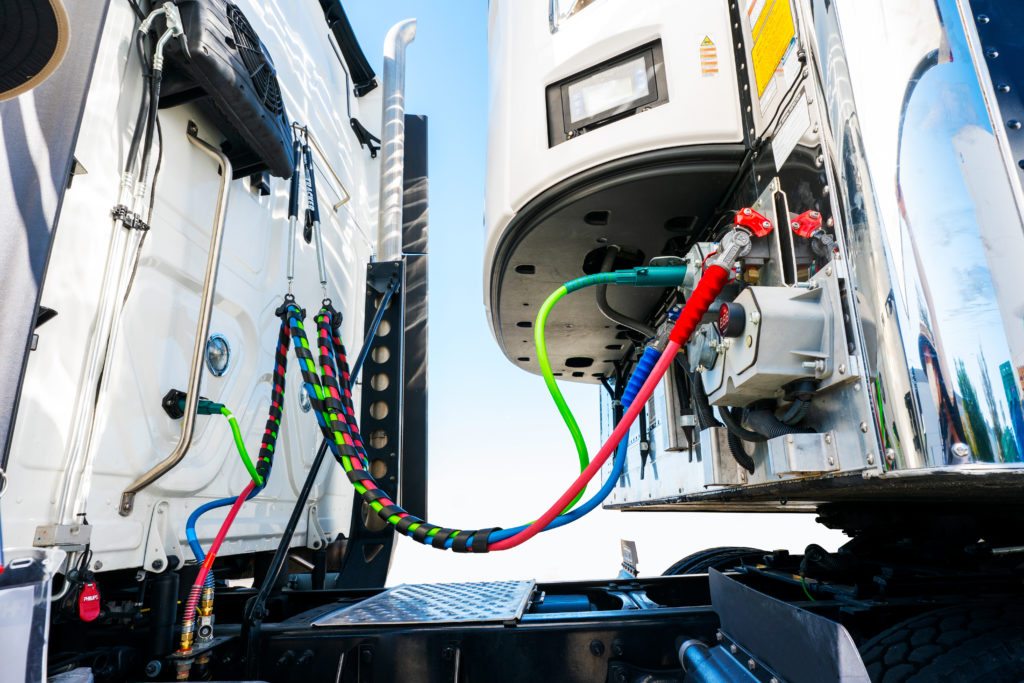 How often have you driven down the highway and seen a bird's nest of tangled green, red, and blue coils between the tractor and trailer? For decades, the industry standard for the back-of-cab assembly was coiled cables. While economical and highly effective, after a while, the electrical cable and air lines become tangled, increasing the chances of:
Kinks in the air lines
Friction stripping away the jacketing of the electrical cable
Extra strain on plugs and gladhands
Cuts and nicks in the air lines
Shorter working lengths of air lines and electrical cable due to tangling
As a result, the industry has slowly been converting from coiled lines/cable to straight versions. They do not have the same potential to tangle and provide the same level of performance. They may also provide superior reliability when compared to coiled because the issue of coil memory and rebound no longer apply, avoiding sag and drag on the deck plate. When combining the air and electrical into a 3-IN-1, the added benefit of protection around the entire assembly in the form of spiral wrap helps resist nicks, cuts, and environmental damage. Combination assemblies are more convenient for drivers because everything they need to connect to the trailer is contained in one bundle.
At Phillips, we are intent on our mission to make the roads safer for everyone through quality and innovation. Ninety-plus years of providing premium solutions for the trucking industry allows vehicles to operate as designed, keeping the roads safer. We have provided premium quality air and electrical assemblies in both coiled and straight versions to every truck and trailer manufacturer in North America. And now, we have taken our next giant leap forward with the Phillips Industries Power Air Kit (PAK). This complete back-of-cab assembly in a single orderable SKU allowing the fleet to "restart" the clock on their air and electrical assemblies.
Available in 3 configurations, Phillips has set the bar with a complete offering to replace any level of back-of-cab equipment. Each PAK kit contains:
An SAE J2394-compliant straight ABS electrical cable (12' or 15' available)
Rubber air lines with factory-installed gladhands (12' or 15' available)
Phillips tracker spring kit cable support
Putting all of this in one box means it's more efficient and easier for everyone. Easier for the fleet to order, easier for the distributor to stock, and easier for the technician to get the job done right by starting with a fresh assembly. By making the process more efficient with trusted products backed by the Phillips name, the benefits include uptime and increased ROI overall.
Which Phillips PAK Solution is Right for You?
QWIK CHANGE™ PAK Premium 3-IN-1 Back-of-Cab Solution:
The industry-preferred QWIK-CHANGE™ PAK utilizes our one-of-a-kind QCP™ (Quick-Change Plug), an over-molded plug, field serviced in under 2 minutes. This plug not only provides best-in-class corrosion protection, but the replaceable plug can extend the life of your cable for additional years of service. This kit also features red/blue rubber air lines with our brand-new POWER GRIP™ XL enhanced grips supporting anodized gladhands. These grips provide kink resistance and a comfortable grip for easy handling. Cables are wrapped in sturdy spiral wrap, providing the clean, organized, and protected features of the industry's best 3-IN-1 assembly. Two 25" heavy-duty tracker springs equipped with our patented QWIK-CLAMP™ round out this premium PAK for fleets looking to upgrade to the ultimate back-of-cab assembly.
STA-DRY® PAK Superior 3-IN-1 Back-of-Cab Solution:
The STA-DRY® PAK features fully molded STA-DRY® plugs, which provide outstanding corrosion resistance. Black rubber air lines with red/blue grips and factory-installed gladhands provide quick set-up. Two 20" tracker springs equipped with our patented QWIK-CLAMP™ make this a superior back-of-cab assembly compared to competitive products.
OEM Standard PAK Essential Back-of-Cab Solution:
The OEM Standard PAK is designed to get a truck back to how it was when it was delivered. The PERMAPLUG™ provides upgraded 7-way corrosion resistance compared to traditional zinc die-cast plugs. This PAK also includes black rubber air lines with factory-installed gladhands and a single 20" tracker spring with a QWIK-SNAP™ 3-hose holder. The individual cables are supported by mini spiral wrap curls, helping keep them organized and avoiding damage.
No matter what your need, there is a PAK for you. Starting over on your back-of-cab is a great way to ensure your truck can operate safely. Avoid a bird's nest of a mess and all the pitfalls that come with it.