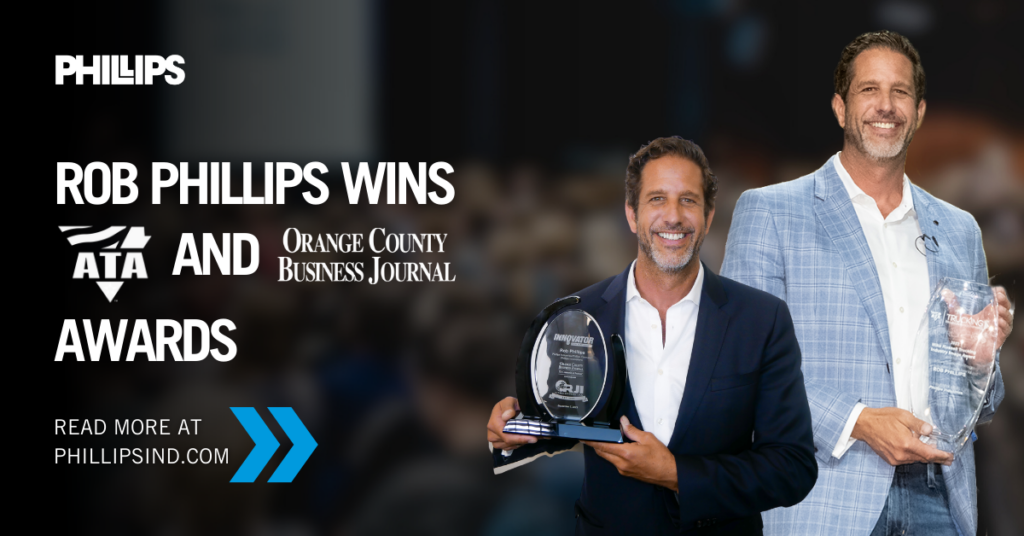 This year, Rob Phillips, CEO of Phillips Industries, Phillips Connect, and Phillips Innovations, received two esteemed awards for his visionary approach and exceptional leadership: the 2023 ATA Mike Russell Trucking Image Award and the 2023 OCBJ Innovator of the Year Award
A Legacy of Innovation: Rob Phillips and Phillips Industries
Phillips Industries has long been recognized as an international frontrunner in the design and manufacturing of components and advanced technology solutions for the commercial truck and trailer industry. Under Rob Phillips' leadership, the company has expanded its horizons, evolving from a North American supplier to a global manufacturing powerhouse with a workforce of over 2,300 across facilities in the USA, Canada, Mexico, Poland, China, and Vietnam.
ATA's Mike Russell Trucking Image Award: Elevating the Industry
The ATA has bestowed the Mike Russell Trucking Industry Image Award upon Phillips in the Distinguished Supplier and Allied Member category. This prestigious award recognizes Phillips' pioneering spirit, leadership, and significant contributions that have consistently pushed the boundaries of innovation in the trucking sector.
"I am deeply honored to accept the Mike Russell Trucking Industry Image Award on behalf of Phillips Industries and Phillips Connect," said Phillips, emphasizing the company's commitment to improving the image, safety, and technology innovation of the trucking industry.
Innovator of the Year: Game-Changing Leadership
The Orange County Business Journal (OCBJ) has honored Rob Phillips with the 2023 Innovator of the Year Award, acknowledging his extraordinary contributions to the industry. This award celebrates individuals and their organizations that have demonstrated brilliance, leadership, and a commitment to creating game-changing products and services.
"I am beyond honored to win this award," expressed Phillips, recognizing the impressive array of nominees and highlighting his team's commitment to pushing boundaries and manufacturing cutting-edge technologies. "Our entire team lives in a world that doesn't understand the word 'impossible,' and we thrive on the excitement that comes from success."
The Phillips Connect Motorsports Program: A Testament to How Rob is Influencing the Ecosystem of the Trucking Industry
Rob Phillips' initiation of the Phillips Connect Motorsports program has emerged as a strategic triumph in nurturing and expanding customer relationships. The program kicked off in 2022 by sponsoring NHRA Top-Fuel Racer Justin Ashley, and has quickly escalated in influence thanks to a combination of Ashley's impressive track performance and the powerful business-to-business interactions unfolding at events throughout the season.
The dedication and innovative approach adopted by Rob Phillips, and the Phillips Connect marketing team have been pivotal in enriching both the company's and its partners' business prospects, solidifying customer relations and setting a promising trajectory for future successes on and off the racetrack.
Phillips Industries' strategic relocation to Irvine, CA, has further fueled this innovative spirit, bringing together all Phillips North American business units under one roof and fostering an environment of collaboration and progress within the vibrant tech ecosystem of Irvine.